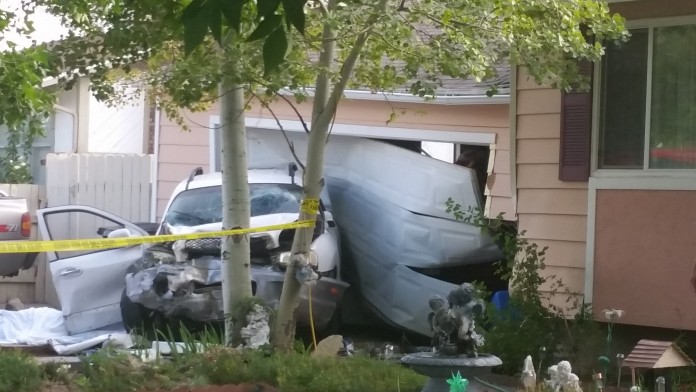 KEARNS, UTAH – August 1, 2015 – Gephardt Daily – Unified Police say a man died Saturday night when his out-of-control SUV slammed into a home in Kearns after a string of hit-and-run accidents.
Police first received reports of a reckless driver around 6:15 p.m. A short while later there were reports a vehicle had driven through a front yard and smashed into a house at 5854 South Tressler Road.
Investigators say the chain of event began when the driver of the SUV rear-ended another car at 6200 South and Misty Drive. The driver of that car told Gephardt Daily he could smell alcohol the man's breath and that he staggered and slurred his speech. "He said he had just come from a bar and this would be his second DUI and not to call police. Then, he got back in his car and after about five minutes he just took off."
The driver said he followed the SUV on a winding path through a Kearns neighborhood at speeds of 40 to 50 miles an hour. He told Gephardt Daily that in the course of just three blocks the SUV hit two cars, a fence, and a utility pole, before crashing into the home.
The driver, whose identity has yet to be released, was pronounced dead at the scene.
A family inside the house was shaken, but uninjured.
More on this story as details become available.
(DEVELOPING)