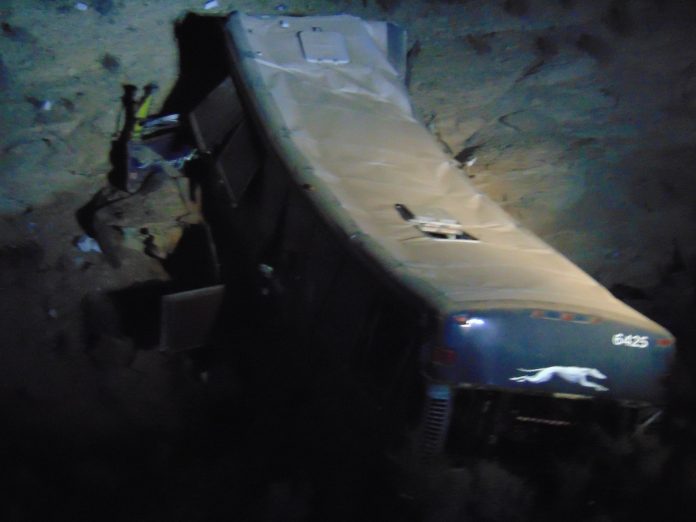 EMERY COUNTY, Utah, Jan. 1, 2018 (Gephardt Daily) — A 13-year-old girl is dead and three other people were seriously injured in a bus crash on Interstate 70 in Emery County late Sunday night.
A Greyhound bus traveling westbound from Green River went off the right shoulder of I-70 near mile marker 113, at approximately 11 p.m., according to a news release from the Utah Highway Patrol.
"The bus traveled into a steep wash and came to rest approximately 200 feet off the interstate," the news release said.
The teenage girl, one of 13 passengers on board, was pronounced deceased on scene.
An updated news release identified the girl as Summer Pinzon, from Azusa, California.
Her mother was also traveling with her on the bus and was transported to Intermountain Medical Center in Murray, the updated release states.
The bus driver and another passenger were transported by air ambulance in serious condition, one to Grand Junction, Colo., and the other to Utah Valley Medical Center in Provo.
All of the other passengers except one suffered various injuries and were transported by ground ambulance to hospitals in Price and Richfield.
The NTSB was notified and UHP Troopers were completing the on-scene investigation. An inspection of the bus is expected to take place Tuesday.
The final destination of the bus was Las Vegas, the news release said.
Gephardt Daily will have more on this developing story as information becomes available.