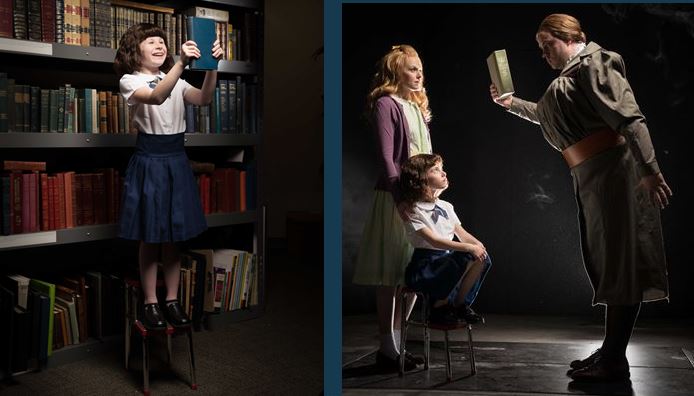 SANDY, Utah, May 1, 2019 (Gephardt Daily) — Children take center stage in the Hale Centre Theatre's production of "Matilda," based on the children's book by Roald Dahl.
True to Dahl's humorous and mildly twisted style, the musical, by Dennis Kelly (book) and Tim Minchin (music and lyrics), tells a both dark and silly tale of distinctive heroes and villains in the world of Matilda, a brilliant, plucky child, unloved and verbally abused by her colorful but comically stupid parents, and threatened by her school's nasty and vindictive headmistress.
But Matilda (played alternately by Julia Buckner and Lucy White) has a few things going for her besides her intellect. She's got a librarian friend (Becca Rose/Aria Love Jackson) who listens to her stories and leads her books, and she gets a teacher, Miss Honey (Bre Welch/Dawn Dietlein) who becomes her supporter, her advocate and more.
And Matilda has something else: a tiny bit of telekinetic power that allows her a distinct advantage in an emergency.
The Broadway version of "Matilda, the Musical," garnered five Tony Awards, including Best Book and a Tony Honors Excellence in Theatre award.
Buckner, playing Matilda on the night reviewed, gave a strong performance as the young spitfire, standing up for herself and classmates and being deliciously "naughty" when circumstances demanded.
A few lyrics were hard to decipher was the only complaint about her strong performance. Ryan Simmons and Ashley Gardner Carlson were a hoot as her morally corrupt, self-absorbed parents, Mr. and Mrs. Wormwood. Their wild and wacky personas gave designer Peggy Willis free reign, and provided a contrast to the dour school uniforms worn by younger cast members.
But the true villain of the piece was manish headmistress Miss Agatha Trunchbull, portrayed alternately by Danny Inkley and Aaron Ford. Ford played the role with gleeful abandon, providing the nightmarish bully the piece demands.
And sharing the role of the sweet and aptly named Miss Honey are Bre Welch and Dawn Dietlein. Welch, who is well known to Hale audiences, offered the perfect combination of strength and vulnerability as an appreciative teacher who has been subjected to bullying herself.
And that is an underlying lesson in the piece: that bullying is unacceptable, and life can improve if one stands up against tyranny.
"Matilda" is silly, serious and life-affirming at the same time. This production also features amazing and effective sets by Kacey Udy and creative dance numbers by director/choreographer Dave Tinney. Lighting designer Josh Roberts strikes the perfect balance between shadow and lightness.
"Matilda, the Musical," which seemed to delight both young and old in the audiences, continues through June 15. For theater or ticket information, click here.