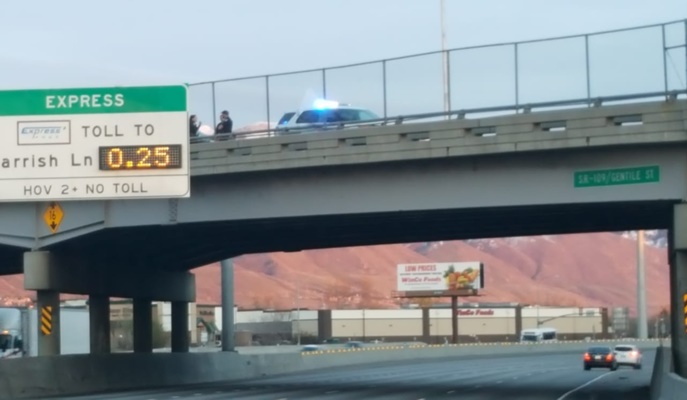 LAYTON, Utah, April 13, 2019 (Gephardt Daily) — Police and passersby saved a man's life Saturday night by preventing him from jumping onto Interstate 15 from the Gentile Street overpass.
The 47-year-old man was spotted by other people in the area as he prepared to leap onto the busy freeway, Sgt. Eric Smith, Layton Police Department, told Gephardt Daily.
"Multiple people tried to prevent him from jumping, and they actually held him so he couldn't," Smith said. "An officer grabbed him through the chain link fence and was able to pull him back over."
Some of the people who were the first to make contact with the man told police he was very upset and had stated that he was trying to harm himself, Smith said.
He was transported to the hospital where he will undergo a psychological evaluation.
This wasn't the first time officers have had to help the troubled man, and Smith said the police department has made a significant commitment to working with people who have mental health issues.
The civilians and the officer involved in bringing the man to safety had "some scrapes and cuts from the chain link fence," but no one was seriously injured during the incident.
Southbound I-15 and Gentile Street were shut down, but were cleared and reopened  within about a half-hour.
Smith wanted to thank everyone who stopped to prevent the man from jumping.
"We really appreciate the community's help. Without them, the man would have almost certainly been killed or at least very seriously injured."