MOUNTAIN GREEN, Utah, Aug. 9, 2022 (Gephardt Daily) — A tanker carrying hot tar overturned Tuesday on Interstate 84, blocking one lane of traffic and leaving the Utah Highway Patrol pondering how to get the vehicle into an upright position for removal without causing a larger leak.
The accident happened at about 3:30 p.m. at mile marker 90 near Mountain Green, Utah Highway Patrol Sgt. Cameron Roden told Gephardt Daily.
"The trailer hit the barrier, on the side of the wall, and is blocking the righthand lane," Roden said. "Luckily, there's no injuries, but it has compromised the load a little bit. It doesn't sound like a huge spill, but it is leaking a kind of tar substance onto the roadway."
A post on the Mountain Green Fire Protection District's Facebook page says a "pup" trailer detached from the main semitrailer while traveling on the bridge over the Weber River.
Firefighters arrived and found hot tar leaking from the top loading hatch and a broken valve that was not accessible, the post states. The semi driver confirmed the substance as tar, fire officials said.
"While firefighters stood by in case of a product release and ignition (tar temperature was about 200 degrees), Stauffers Towing uprighted the 34,000 pound trailer and hauled it away," the post states.
Enviro Care Inc. responded to help with the tar spill, according to the fire district. It's estimated that 50 gallons of the 3,400 gallons being transported spilled, the post states.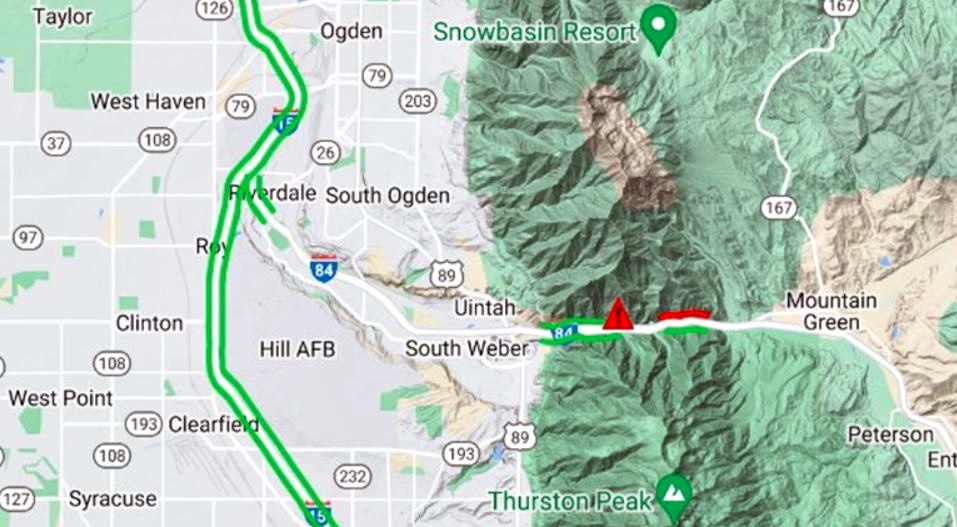 Image: UDOT traffic website